The Lamborghini Miura celebrates its 50th anniversary on the roads of "The Italian Job"

Sant'Agata Bolognese, 20 May 2016 - As part of celebrations commemorating the 50th anniversary of the Miura, Automobili Lamborghini has sent two Miuras from its Museum down the route used in the film, "The Italian Job", directed by Peter Collinson. In the opening sequence of the 1969 cult film, the cars traveled up the hairpin curves of state road 27 around Great St. Bernard mountain, in the heart of the Italian Alps.

During the event, the "fathers" of the Miura met in a warm reunion. Gathering together were engineers Gian Paolo Dallara and Paolo Stanzani, who were in charge of the technical side, and Marcello Gandini, who came up with the exterior design for Carrozzeria Bertone.

Vehicles from Anas (the government-owned Italian company that builds and maintains roads) and the Polizia Stradale (Highway Patrol) escorted these Lamborghini super sports cars up to the Great St. Bernard Pass, which was opened on a one-time basis for this event, only.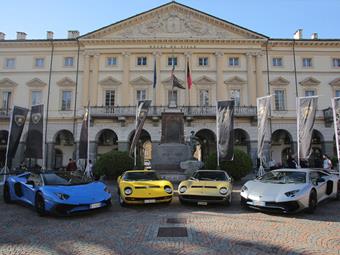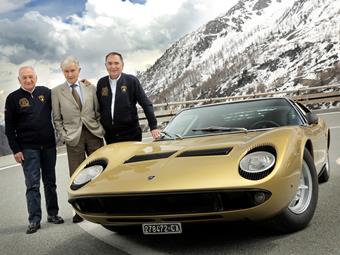 ---
ランボルギーニ ミウラ 50周年
今年で50周年になるLamborghini Miura それを記念し、Lamborghini 本社のあるイタリアではさまざまなイベントが開催されています。 6月6〜12日にイタリアで行われる 50° Aniversario Miura Tourへは、ランボルギーニ福岡から3台のMiuraが参加します!
うち1台は東京でメンテナンスをしているMiura SVが参加します。